MiceChat's 7th Anniversary has come and gone but there's still plenty of Disney and other theme park news to read and discuss. Did you hear about the amazing things coming to Universal Orlando? How about the cool slow motion video of Disneyland? Is there a problem with Epcot or should things stay the way they are?
Lastly we have some great video on the new Ratatouille ride coming to the Studios Park in Paris and Star Tours updated in Tokyo and Paris this Spring! It's all here along with brand new MiceChatter and Communicore Weekly videos on the MiceTube!~ CakvalaSC
EDITOR'S PICKS
MiceChat 7th anniversary report
biggsworth has a few photos of the MiceChat 7th Anniversary, from this past weekend!
Sign up for the monthly

MICE

CHAT

newsletter:




MiceChat is NOT affiliated with the Walt Disney Company in ANY way.
The Disney web site is located at www.disney.com
---
Q. So what happens after Cars Land? It seems everyone has made big announcements, from Universal to Legoland. But the Disneyland Resort seems to be coming to the end of a period of activity. – Salty old irate

Don't worry, it's not on the list, for now…
A. Well, it may look like things are slowing down, but something is always up over in Burbank and Glendale. The good thing is that the focus this time may be back on Disneyland, and it's been too long since we've had a real E ticket open in the Park. As far as to what it may be, that's still up in the air. The area behind the Rivers of America (including the stables for the Main Street horses) seems to draw the most buzz/gossip. My educated guess is they'll wait to see how Cars Land opens and holds up after Universal's Harry Potter expansion. – Al
Got a question for Al or any of the MiceAge columnists?
Email them to Al@MiceAge.com
Your question may be featured in a future MiceChat Round-Up,
but keep in mind due to the volume of mail received he may not be able to personally respond.
---
Announcing the Next Big MiceChat Adventure
So, where are the MiceChatters going next? We were looking for something we hadn't done before, something affordable, and something that was FUN. Teresa from Fairy Godmother Travel found the perfect cruise from Vancouver to Los Angeles with a two day stop in San Francisco. Learn how you can join in on the fun and take advantage of this great deal.
---

Trip reports are coming in from the MiceChat 7th Anniversary Celebration. We also take some time to enjoy Disneyland at a slower than normal pace. Then we ask, Will DCA's Aladdin show ever return to its former glory, complete with flying carpet, or has it flown off to never-again-land? ~ Aladdin
Trip Report from 1/21 - 1/23
saramommy and family visit Disneyland, and find out that sometimes rainy days are the best! Here's their photo report!

Slow motion Disneyland video
str1375 discovered that sometimes it's more fun to take Disneyland at a slower pace, and their video give you a chance to do that, too! See for yourself!

7 Year Start at ESPN With Disney Legends
akafandisney has a complete photo report from the MiceChat Breakfast with Disney Legends!

My Disneyland Resort Photos - 2012
DizneyPhotoGuy has started up a new topic for the new year. Take a look at his wonderful photos!

Aladdin No More flying Carpet?
lighttragic asks about the missing flying carpet in Aladdin in DCA, after being absent for several months. Is the park just giving up on keeping this a great show, by not returning the magical carpet flights? Are they being cheap not getting the rigging fixed in a timely matter?

DCA too realistic
imaginashton asks if DCA is too realistic. Is there enough magic there to take guests into to a world of fantasy and adventure, or will that park always be destined to be more Six Flags than Disneyland.
---
The A/V Room
Sarah has a brand new MiceChatter video for you today:
Communicore has a new video too:

LIVE BROADCAST AT RALPH BRENNAN'S JAZZ KITCHEN
As the official venue of choice for MAGIC 24.7, Ralph Brennan's Jazz Kitchen in Downtown Disney Anaheim will be hosting a live broadcast from the Ralph Brennan Radio Booth in the Jazz Kitchen on August 11, 2012 (exact time of broadcast TBA).

We'll be doing a live cooking demo, featuring our station's own signature drink (Twisted Magic), doing live contests and bringing on special Disney Park guests. We hope you can join us! For the full itinerary, check out our special event website: magic247live.com!

YOUR DISNEY TOP FIVE
The Time Rovers are going live again this Thursday at 6pm Pacific for one hour! Here's what we're discussing: If Disney gave you a free pass to do ANYTHING to any of it's parks...what would it be? Call us LIVE on Skype (username Magic24.7) or on our MAGICLINE at (424) 270-1955 and get in the discussion!

Remember to bookmark our site (magic247radio.com) and listen between 6am-4pm Pacific Monday to Friday for your official MiceChat.com Newscasts featuring YOUR posts and more Disney Park news! We also have welcomed former Weather Channel meteorologist Jeff Mielcarz to the station, who will provide you with Disneyland & WDW weather Monday to Friday!

PODCAST UPDATE
Every Monday to Friday between 6-9 am Pacific, we give you your MiceChat.com Newscast. Coming soon, you'll be able to get a full recap of news from your favorite site.
---
Have you signed up for MiceDeals?
Don't miss out on 50% to 80% off Southern California and
Orlando area theme park, restaurant, hotel and attractions!
Visit MiceDeals.com today and sign up at the top of the page for your daily
deal reminder. Hurry, because they sell out quick and don't last long.
---

Can you believe we're in February already? You know what that means on MiceChat...trip planning questions. Sure, every month brings Walt Disney World questions and discussion, but it's nice to think about Typhoon Lagoon or Blizzard Beach in February. ~yoyoflamingo
What do you guys think of Disney Quest?
A questions for 'the experts:' is DisneyQuest worth it? Anyone go there before? Share your thoughts and opinions here.

Snow or Palm Tree? Where to swim.
A simple question that makes everyone in the winter weather jealous...which water park is worth the visit, Blizzard Beach or Typhoon Lagoon?

The Problem with EPCOT
Based on attendance figures, KingEric questions the relevance of Walt Disney World's second theme park. Is EPCOT past its prime? Share your thoughts here.

Is theme park attraction sponsorship dying?
An interesting question: Is the idea of a corporate sponsored attraction dying? Is it even worth it? Share your opinions here.
---
Americans in Paris: DLP (01/24/12)
downbeat provides a magical journey through Disneyland Paris with many incredible pictures to go with it. Check out this awesome trip report!

DLP Clearing Land For Ratatouille ride / Photo & Video of Themed Road To Ride
Ratatouille is coming to DLP and our Ride Warrior has a neat photo and video posted to provide us with updated progress on the attraction!

Star Tours: The Adventures Continue comes to Tokyo next Spring
Look out Tokyo! The beloved characters are making their way with new voyages that are out of this world!

HKDL 2012 Part 2: The (Not So) Happiest Place on Earth
Check out this neat Hong Kong Disneyland trip report, with pictures, provided by our very own, SirEdge!

Concept of Shanghai Disneyland (Metro Station) Released!!!!!!
WDW1971 has the latest scoop on Shanghai Disneyland's Metro Station and provides a link to incredible concept art detailing how the station may look when it is completed.
---
Rare Disneyland Paris book set to return!
The rights to the book, which was once sold at Disneyland Paris, have gone to a new publishing company, and as Alain went through the details with them, they discovered that about 730 of the English "Collectors Edition" were never printed (due to printing expenses and other reasons at the time). I've offered to help finance the printing of the remainder of the allotment of the Collectors Edition if we meet a certain number of preorders (200 to 250 preordered books on my end).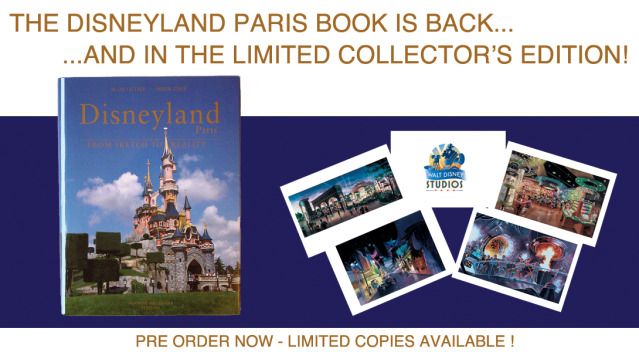 If we are able to obtain 200 preorders (at the original printing price of the book), we'll have the books sent to print and deliver them to those who preorder. If we don't meet the preorder requirement by March 15, 2012, we'll cancel the print and refund all the money. If we are able to complete the printing, those who buy the book after preorders are over will pay the new 'higher' cover price (the book will go up an additional $40 after the preorder). So, it definitely pays to get in early and help us with the preorder requirement.
For those of you who aren't familiar with the collector's edition of Disneyland Paris, From Sketch To Reality, it is one of the most collectible Disney books ever printed. The collector's edition is printed on a luxury glossy paper and has gold printing on the cover and dust jacket, it was limited to 2000 copies in English ( and 2000 in french ), each copy has a number, AND each copy includes four beautiful "lithographs" of WDI artwork for the Walt Disney Studios. Each of these lithographs is suitable for framing. It's a big book with 320 pages and 750 pictures in it. We're pretty confident that we can achieve the required number of preorders and have the book printed and shipped this Spring.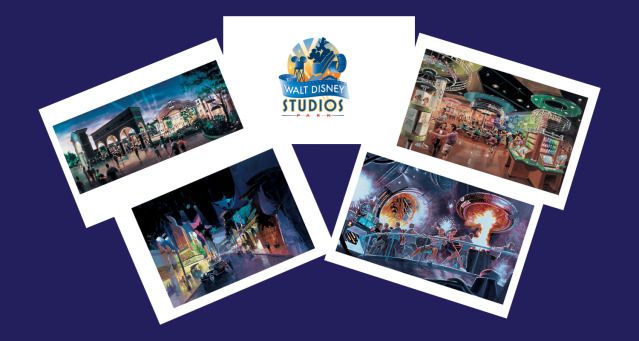 10 years ago, the collector's edition was 100 euros (plus 15 euro for shipping, which is about $150). When the pre-orders are over and the book is back in regular stock, its price will increase to 130 euros plus 15 euro shipping(which is about $190), which means that pre-ordering the book will help you save a substantial amount and does a good deed at the same time.
The book is expected to be released late March or April 2012, as we hope to have the collector's edition released in time for Disneyland Paris' 20th Anniversary.
---
Universal Orlando makes big 2012 announcement
Universal Orlando has just announced many new attractions and show that are in the works. MiceChat's Orlando Parkhopper Team has put together a great summary of what is coming to Orlando.

New Area 'Universal Wonderland' To Be Opened on Friday, March 16, 2012
On the other side of the globe at Universal Studios Japan, switttdrfan brings us information about a new land called 'Universal Wonderland.'

Indianapolis Super Bowl Village
With the Super Bowl kicking off the weekend, indydisneyfan brings us some photos of the Super Bowl village in downtown Indianapolis.

New Bellagio Fountain Songs
The Bellagio has added now songs to their fountain show. New artists include Michael Jackson, The Beatles and Glenn Miller.

You'll lose and arm and a leg on this coaster...
A new rollercoaster at Thorpe Park advertises 'gut-wrenching inversions and near misses.' After testing, the near misses may not be such an accurate description with the test dummies losing arms and legs.
---
Pixar/Cars 2 snubbed at the Oscars!
Cars 2 didn't make the cut for this years Oscars. TodAZ1 is questioning how this could be when Kung Fu Panda 2 made it. What do you think?

Academy's Oscar Week: Animated Feature Symposium 2/23
And while we are on the subject of animation and the Oscars, the Academy of Motion Picture Arts and Sciences will present the Animated Feature Symposium hosting the directors of the five nominees.

Star wars: Rise of the empire saga
Mickey Mouse rocks has laid out his ideas for a new Star Wars trilogy on the Rise of the Empire saga. With new and returning characters, could this be a fun direction for the Star Wars universe?

RIP Juan Epstein - Actor Robert Hegyes Dead at 60
On a sad note, Robert Hegyes, the actor who played Epstein on Welcome Back Kotter has passed away.
---
Valentines Day and the Single people...
Valentines Day is coming up. How do all our single MiceChatters deal with it? I buy myself Chocolates ;). Check out what all of our other single MiceChatters have to say :)
---

1/31: Kevin Yee – In the Cards
Kevin goes into more depth with the Sorcerers of the Magic Kingdom, looks like there will be more advanced levels too!


1/31: Big News from Universal, Test Track changes at Disney's Epcot, & more
The Florida theme parks are bursting at the seams with amazing news this week. We begin with the Magic Kingdom at Walt Disney World for some pictures from the Fantasyland expansion. We next skip over to Epcot for a glimpse of the new Habit Heroes exhibit/attraction and news of Test Track changes. The biggest news of the week comes from Universal Orlando Resort with big announcements of new and updated attractions, a new parade, and night time lagoon show. Not to be left out, however is Busch Gardens Tampa for a little bit of history from that park and finally we swim to SeaWorld for the Just for Kids event and some Turtle Trek construction.


1/30: Buena Vistas, Matterhorn makeover & Radiator Springs
Disneyland Resort saw big crowds this weekend as unseasonably warm temperatures accompanied the popular inaugural Tinker Bell Half-Marathon event. As the run Disney event drew thousands of extra guests to the Resort, Disney construction crews took advantage of the gorgeous weather to continue work on on-going projects in Disney California Adventure, including the new Buena Vista Street main entrance complex and the massive Cars Land expansion. At Disneyland, the Matterhorn Bobsleds, Fantasmic! and Main Street restaurants continue their refurbishment projects as the Haunted Mansion reopened following the removal of its holiday overlay. Join us for all this and more in this week's Dateline Disneyland!


1/29: Announcing the next big MiceChat Vacation
Vacationeering is here to announce the next big MiceChat Vacation. Join us on the Wonder this September as we sail from Vancouver to Los Angeles with a two night stay in San Francisco. This one is not as expensive since it is a repositioning cruise so the deals will be phenomenal. Read here to learn more about dates, and pricing.


1/27: Epcot, Disneyland Paris, WB Movie world flood, more…
A magical honeymoon in Epcot begins the new Weekend Update. Rixter guides us through the adventures as travelers from around the globe share their photos and stories. Along with the Floridian nuptials, we are whisked away to Disneyland, Paris as the gear up for a celebration of their own. We then drop down to Queensland to swim around Warner Brothers Movie World and end with a jaunt through Bangkok's Lunar new year celebration. That's some traveling, huh?


1/26: Disneyland in Bloom, MiceChat at 7, SeaWorld Manta, Universal and Huntington Gardens
We have a HUGE MiceChat 7 year anniversary weekend ahead of us and a ton of Disney and theme park news to get to today, so let's not waste time. Disneyland's is in a state of flux with a few E-tickets down while others are returning. Meanwhile, Disney California Adventure continues its sprint to the finish line. Universal Studios Hollywood reworks the line for the Studio Tour again, releases new videos in preparation of the new Transformers ride and introduces the Lorax to Frankenstein. Finally, we stop by SeaWorld as they unveil the Manta coaster vehicles and stroll through a little more of Huntington Library. Here we go!


1/26: Sue Kruse - Pressing Matters
Sue finds cool things and fun events you may have missed such as Art of Motion Picture and the Walt Disney Family Museum!


1/26: Werner Weiss's Yesterland – Bur-r-r Bank IceCream
Chill out with Werner Weiss in Yesterland's very own Bur-r-r Bank IceCream shop. Offering, "A chillingly great selection of the finest-quality ice cream, waffle cones, and sundaes" this confectionery in a train serves up fresh waffle cones and all the Dreyer's ice-cream you could possibly desire. Step up for a scoop or two!


1/25: If I were King
What would you do to change Disneyland if you really could? Today, Sam poses the question and answers what he would change at Walt's original magic Kingdom. Let your mind run wild as Sam goes land by land and details the things he would restore, the things he would invent, and the things he would simply remove to perfect the only park that Walt himself walked. What would you do? Tell us after you read Sam's ideas.