It's time for our weekly Round-Up of all the best news and discussions from Disneyland, Disney World and beyond. Big announcements have been made about the line-up at the D23 Expo and we let you know where to see everyone and everything there. We also give some advice to a first time Disney World visitor; host another round of Armchair imagineering; and ask if Legoland Florida is just another kiddie park. Of course, we also recap the most recent articles from MiceAge as well. We top it all off with a brand new MiceChatter video from Sarah on MiceTube and an interesting Ask Al. What are you waiting for? - Fishbulb
---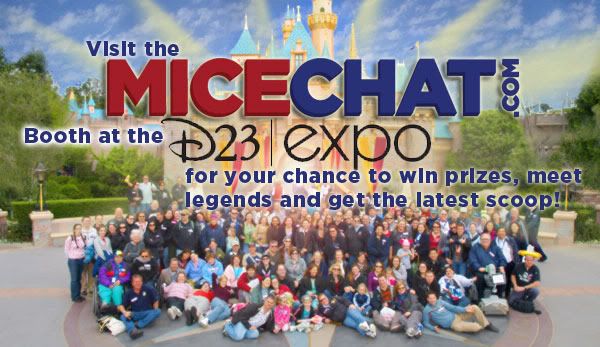 The D23 Expo is a little over a week away. MiceChat/MiceAge will have a large booth set up in the collectors forum area. We have lots of exciting and fun things planned, including:
SPECIAL GUEST: Disneyland's first President, Jack Lindquist is scheduled to meet with fans at our booth at 1pm on Saturday the 20th.

PRIZES & DISCOUNTS: Don't forget to stop by for your chance to win one of two stays at the Howard Johnson Anaheim Resort or our grand prize two night stay at the Grand Californian Hotel. Plus, find out how you can save 33% on a stay at the new Disney Aulani Hotel in Hawaii.

MEET & GREET: Here's your chance to meet Al, Dusty, Fishbulb, Sarah, Sue, Samland, and a whole host of MiceChat/MiceAge characters.

D23 Expo: Full Schedule
Dusty has posted the full D23 Expo schedule of events for August 19th - 20th. There's a whole lot going on, which events are on your don't-miss list?
EDITOR'S PICK
Video of the Zephyr being removed and loaded on to a truck headed to the WPRM!!!
Yet another of the original DCA icons has left the park. Here is video of the Zephyr being removed from Disney California Adventure. Thankfully this piece of train history is headed to a museum that will take care of it.
---
Sign up for the Monthly MiceChat Newsletter
MiceChat is NOT affiliated with the Walt Disney Company in ANY way.
The Disney web site is located at www.disney.com

Sarah's back with another delightful MiceChatter video on our MiceTube channel.
Last week, she asked for fan art, this week, she shares it with us.


---
Q. (This question was put together from several reader emails.) Disneyland used to have unique merchandise in its many shops. Now a lot of what I see is the same assortment of generic character clothing and Disney Store merchandise that Orlando has. What few unique items they have, especially toys, are labeled Disneyland on one side of the box and Walt Disney World on the other. While a few exclusive high-end items still remain, the bulk of what they stock I can get at either resort, the mall or from a local retailer. I thought things were getting better, what happened? - J. Banks

New Orleans Square's One of a Kind shop was originally designed and stocked to
enhance the theming of the area, any sales were considered a bonus.
A. The problem lies in the continual push to shave every possible cost from the design and manufacturing process. Mix that tone-deaf accounting cabal with a platoon of Orlando buyers (who for the most part are clueless to the unique collector's market Disneyland has built up over the years), and you end up with shops full of generic merchandise at Disney premium pricing, much of which can also be found at the local big box discounter.
The battle is a familiar one in most of retail. Truly successful operations continually balance the need to rein in costs with the call for more creative (i.e. higher risk) buying decisions. The two sides need each other to succeed, but at Parks & Resorts the sharp pencil guys (as Walt Disney used to call them) call the shots now, as buyers are made to focus on reducing sku's and maximizing volume discounts.
Got a question for Al or any of the MiceAge columnists?
Email them to [email protected]
Your question may be featured in a future MiceChat Round-Up,
but keep in mind due to the volume of mail received he may not be
able to personally respond.
---

We have several great photo reports this week. Next, a new character that has been rolling around Tomorrowland. Next, tell us which attraction in Disneyland history has been the biggest failure! ~ Aladdin
My 18th Bday Aug 1-3 Trip Report
Michael808702 celebrated his 18th birthday (a little early) at Disneyland, with friends and family!

Pho-tastic Disneyland Trip :: June
TSMfreak travels across the Atlantic for a trip to Disneyland Anaheim!Here's their photo report!

Trip Report-July 27-August 3
chris001 brings us several wonderful photos from their recent Disneyland trip!

R2-D2 Meet and Greet
Donald1980 has news of a new character roaming around Tomorrowland, R2-D2! This may only be for a short time. Look here for photos and a video!

What is the worst ride in the history of Disneyland Resort?
Disneyland Master wants to know what you think is the worst attraction in the history of the Disneyland Resort. Give us your input!
---


Welcome back! Not much in the way of rumors this time around, but LOTS of ideas! That ever-popular 'Third Gate' topic pops up three times this week, along with an idea for a DCA Phase 2 expansion. Please keep posting your rumors and ideas as you never know…they might just make next week's Round-up! -Demigod-
DCA Expansion Phase 2: Country Bears, Muppets, Mega Dark Rides, and More…
MiceChat member MANEATINGWREATH posts some really detailed ideas for a 'Phase 2' expansion for DCA.

Talking Mickey in Fantasmic!
jon328 wonders if using the new 'Talking Mickey' costume for Fantasmic! is a good idea…

MARVEL Superhero Theme Park – Third Gate Idea
MiceChatter TylerDurden riles up the Disney scene here with a 'third gate' idea for a 'Marvel-ous' theme park!

Dragon Mountain – A New Roller Coaster in Fantasyland
An interesting idea posted by moger999 suggests a new roller coaster in Fantasyland.

Mickey's Philharmagic
MiceChat member DisneylandMaster thinks that WDW's Mickey's Philharmagic would be good fit for the original Magic Kingdom. What do you think?

Armchair Imagineering: DCA Expansion – (re) Toon Studios Tour
MiceChatter Right Ear offers a ride idea for the old 'Who Wants To Be A Millionaire' building in DCA. It's pretty elaborate…could it work?
---

Just a little less than 2 weeks until the Expo. While still hoping for some new and exciting announcements, the reality is that the rumors posted in the Walt Disney World forums are about all we'll get. We'll see if we can be pleasantly surprised. ~yoyoflamingo
First Time at WDW - Have a Couple Questions for Y'all
For someone who hasn't been to the World since 1983, there are going to be some adjustments to how things work now. Offer some help and advice in this thread!

Off Our Rockers on Main Street
Witches of Morva shares some rather disturbing news about the rocking chairs on Main Street. Apparently, they have since disappeared due to an accident. A wise decision or overly safety conscious? Voice your thoughts here.

Rilous Carter leaving EPCOT; Erin Youngs to replace him
There certainly seems to be a lot of management changes in Walt Disney World lately. Kevin Yee shares some new news about management in the parks. Seems one month was enough time for Mr. Carter to be the VP of EPCOT. He is now leaving. Good news or a surprise?
---
Is Legoland going to be mostly just a kiddie park?
DisneyMagic asks... "We've never been to the California Legoland, and with the new Florida park opening in Oct we were thinking about visiting it. But after looking into their website it seems to be geared mainly toward the young ones. We'll be visiting with another couple who are both first time visitors to Disney and Univeral but now I am reconsidering Legoland. Is it worth visiting for 4 adults without kids or would we be better off going to SeaWorld or Busch Gardens instead for the day?"
---


With less than 10 days until the Expo, be sure to keep your eyes on the D23 area of the Disney Business forum to find out the latest information. ~DLandFansAZ

D23 Expo: Disney Store Announces Plans and Exclusive Merchandise
Dustysage brings us the announcement from the Disney Store for plans and exclusive merchandise for the Expo. Get a sneak peak of item to come and hear from the artists and designers.

D23 Expo Shopping Question?
MickeyMao has a dilemma about the D23 Expo. Which do you do first, go to the Dream Store for exclusive merchandise or visit the Disney Living Pavilion? So which would you choose?

Walt Disney Studios Announces D23 Expo Line Up
Disney has announced their D23 line up and disneylandfan95 shares with us the latest listing of all the exhibits and presentations that will be offered. Check it out for more info.
---


There's a few new threads in the lounges this week, where there's never a lack of diversity. ~ Trekkie Dad
MiceChat Nights of Horror - full listing of events
These events are hugely popular with Mice Chatters, and our own Fishbulb starts this thread with the granddaddy of them all. This is a thread you will want to watch as dates and ticket prices are announced.

Police Bust Teens' Bake Sale in New York
Retrocool has found this little nugget of a story about a couple of kids forced to shut down a cupcake sale on its second day.

Fela Kuti - Water No Get Enemy
Not everyone in this world has easy access to clean water. Retrocool reminds us of that with links to several videos.

Nerrrrrvous. Need advice from Disneyland locals.
Tuppence a Bag is a high school senior planning to attend college in southern California and hoping to work as a dancer in Disneyland while in school. Any advice?

D23 Meet?
JerrodDRagon would like to meet up with other Mice Chatters at the upcoming D23 Expo. So far, nothing official is planned.

Photo Meet at Expo 23
JayBleu is interested in doing a photo shoot of Mice Chatters attending the D23 Expo. Nothing scheduled yet.

8/2: Kevin Yee - Care Less?
The operative phrase in Walt Disney World these days might as well be "good enough." To judge by the ratio of working-to-broken effects on various attractions around the parks, "good enough" seems to sum up the attitude toward Show around here lately.

8/8: Andy Castro - Dateline Disneyland
Dateline Disneyland brings us the latest news and information from the Disneyland resort.

8/7: Orlando Parkhopper
Get ready for a great Disney World and Orlando attractions update today because we are taking you to new heights. . . literally! The Magic Kingdom's massive Fantasyland construction project is really progressing, and we've got some detailed shots for you today along with some very unique aerial views. Plus, all sorts of news from the rest of Disney World, Universal Studios, SeaWorld and Busch Gardens Tampa.

8/5: Weekend Update
David Yeh starts us out this week with the first part of his mega recap of Comic-Con International. MiceChatter kcnole went to Singapore and was able to break away from his work to do a little sightseeing. Aussie theme park correspondent Rya86n collaborated with PokerPig89 to bring us photos of Wet 'n' Wild Water Park. Finally we have some gorgeous post card images from Tokyo Disneyland furnished by Teresa, owner of MiceChat partner Fairy Godmother Travel.

8/4: SamLand - Destination EPCOT: First Impressions
You only get one chance to make a great first impression and that is certainly the case with theme parks. The arrival experience must transport guests from where they are to where the designers want them to be. We take a look at the entrance to EPCOT.

8/5: In The Parks
What a wonderful time to be a theme park fan. Today, we'll take you to Disneyland and Disney California Adventure to check up on the progress, construction and refurbishments going on all over the place. Visit Universal Studios Hollywood where new Horror Night mazes have been announced. And we'll launch you into a trip to Knott's Berry Farm as they get ready to debut their newest, tallest thrill ride yet, Windseeker.
---