Holidays are steamrolling into the parks; time for the magic of a castle decorated in snow and a parade to celebrate the season. This week's Round-Up also has a few fun Halloween trip reports to wrap up the season too. And we're here once again with a collection of the week's most noteworthy discussions, photos and news on the Disney theme parks. Plus, we have the latest videos from Sarah and Matt, along with an update from the boys who built their very own Pizza Planet truck on MiceTube. Enjoy! ~ CakvalaSC
EDITOR'S PICK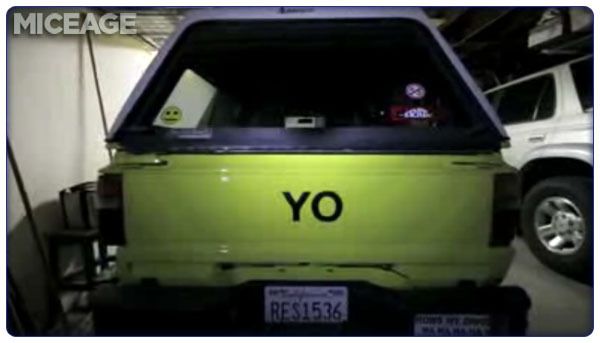 The Road to Pixar
The latest blog post on a video documentary about our favorite Pizza Delivery Truck, you'll find it utterly fascinating.
Sign up for the monthly

MICE

CHAT

newsletter:



MiceChat is NOT affiliated with the Walt Disney Company in ANY way.
The Disney web site is located at www.disney.com
Al returns next week as he just posted his latest column.
Got a question for Al or any of the MiceAge columnists?
Email them to

[email protected]


Your question may be featured in a future MiceChat Round-Up,
but keep in mind due to the volume of mail received he may not be
able to personally respond.
---
We recently had the opportunity too visit Disney's new Aulani resort and Spa on Oahu and found it to be amazing. What's more, we were able to work a special deal and are offering a trip to this new resort at up to 40% off the regular rate. This is going to be an affordable chance to enjoy this resort along with all of the other things Oahu has to offer. This trip will take place June 23-30, 2012, and we have locked in PHENOMENAL deals on rooms of all sizes (even ocean view!). Come feel the ocean breeze with your MiceChat friends. Take tours, luau, snorkel and experience Hawaii as you never have before.
Visit the MiceChat Aulani discussion via this link for more information.
---

No sooner is Halloween 2011 a memory of the past, than the Christmas Day Parade taping is right at hand. ~Aladdin
My narrow escape of the Zombie Children of Disney...a winder*wonder trip report
Winder Wonder and her husband enjoy an autumn trip to Disneyland!

O Christmas tree
Chechire Cat asks when Disneyland's Christmas Tree will be placed on Christmas Tree point, and suddenly the topic opens up for many questions about the Christmas Holiday at Disneyland! Who will be the special performers for the Disneyland portion of the Televised portion of Christmas Day Parade. When will the parade taping be done at Disneyland? And what about Thanksgiving? Is there any love for that holiday at Disneyland

NOS X-Mas Decor (some very new and original) and a Last Look at the Carved Pumpkins
Ron W brings us some of the 1st signs of Christmas arriving, and it includes a few interesting changes to at least a couple balconies in New Orleans Square. Then we also take a few last looks of Halloween, as the fall colors are disappearing.
---
The A/V Room
Sarah now has her newest MiceChatter video posted...
...and our newest MiceTube videoblog contributor, Matt,
a.k.a. infaMOUSEproject has his latest cHATBOX up...
---
MAGIC 24.7
LISTENERS, CALL US!
MAGIC 24.7 has unveiled a phone number where listeners can call 24 hours a day, 7 days a week and request a song, send out a dedication, or leave a station comment. The MAGICLINE is equipped with voicemail, so feel free to leave a message for us, and you may hear it on the air! Call (424) 270-1955. Long distance charges may apply!

NEW MUSIC MONDAY
We add a couple of new tracks every week!

APP UPDATE
We're working on finishing up our iPhone/iPad/iTouch App for MAGIC 24.7! Soon you'll be able to interact with our station on your favorite devices from Apple. We're hoping to launch it very soon - so stay tuned!

PODCAST UPDATE
Every Monday to Friday between 6-9 am Pacific, we give you your MiceChat.com Newscast. Coming soon, you'll be able to get a full recap of news from your favorite site.
---
Have you signed up for MiceDeals?
Don't miss out on 50% to 80% off Southern California and
Orlando area theme park, restaurant, hotel and attractions!
Visit MiceDeals.com today and sign up at the top of the page for your daily
deal reminder. Hurry, because they sell out quick and don't last long.
---
What's your favorite Disney park in Walt Disney World
It's a simple question that you can easily answer, so which is your favorite park at Walt Disney World? Everyone has their favorite so which is yours and why do you like it?

How does Will Rogers twirl his lasso????
Audio-animatronics sure have come a long way since Disney first created them. Some of them can just down right impress you with what they can do nowadays. SparkChaser is really fascinated by the Will Roger's animatronic and wants to know how he twirls his lasso? Do you have any idea?

Walt Disney World TV loop from 2001-02
Back during the 100 Years of Magic Celebration, back 10 years ago, the hotels at the resort featured a Tour of the World. It's nostalgic if you were there and even fun if you have never seen it. Share your memories and thoughts here!

Mickey meet-n-greet preference (at MK)?
Mickey has a new home for his meet-n-greet in Town Square, but many are still fond of the former Toontown Fair location. So are you a fan of the new location or miss the old one?
---

Scarlett Stahl visits Hong Kong Disneyland
Scarlett Stahl recently took a special birthday trip to Hong Kong Disneyland and has offered to share her account with us. Happy belated birthday to Scarlett.

Big Thunder Mountain derails
Almandot regretfully has posted news of a accident at Disneyland Paris resort Big Thunder Mountain.

Trip Thoughts
GUYNYC has posted his review of his recent trip to Tokyo Disney Resort.

TDS Toy Story Mania Construction Photso
Toy Story is invading Tokyo Disney Resort, GUYNYC has posted some shots of the current progress of the construction.
---

Halloween may be over, but reports from other destinations are still rolling in. ~Trekkie Dad
The Empty Grave: A Haunt Review
The Forbidden Eye went over to the Anaheim Garden Walk to check out The Empty Grave.

Fright Fest Review
JerrodDRagon visited Six Flags' Fright Fest and gives it a mixed review.

Magic Castle on fire
PinBrian provides a link to a news report of LA's Magic Castle catching fire about midday on Halloween
---

Thought I'd share my Halloween costume!
l0nepinemall Got creative with her Disney themed costume! I guess we could call her Buzz Lightette?

'This is Halloween!' - Light Show
This is Halloween! If you love great light shows and the Nightmare Before Christmas, check out this incredible video!
---


11/1: Al Lutz – Cars Too
Al covers the continuing remake of DCA, expected holiday changes and what is upcoming for Disneyland!


11/1: Magic Kingdom's Farewell To Halloween, Hello Christmas, Fantasyland Construction
Today's Orlando Parkhopper is one you won't want to miss. We say farewell to Halloween at Disney World's Magic Kingdom and hello to Christmas (they overlap quite a bit these days). We'll also take you behind the scenes on the Fantasyland and Swiss Family Tree House construction sites. The candy shop on Main Street has seen better days, but the photos of the parks couldn't be more beautiful. All this plus a new video from Kevin Yee and some cute critters celebrating Halloween.

10/31: Hong Kong Disneyland at Halloween with Scarlett Stahl
Lucky lady, Scarlett Stahl, goes from Disneyland's Club 33 to Hong Kong Disneyland for her birthday and finds a Halloween wonderland. Join us as we explore this diminutive park at its most enchanted. You might be surprised by the scary mazes and zombies on Main Street


10/31: Happy Halloween and Season's Greetings from Dateline Disneyland!
Happy Halloween! Disneyland will close early tonight as it hosts its final Halloween party before packing up the jack-o-lanterns to get ready for the big winter holiday season. Work will get underway quickly lining Main Street in Christmas lights and garland before Disneyland's November 14th launch of the holidays, and plenty of the season can already be seen at Sleeping Beauty Castle and in New Orleans Square.


10/30: Wheels Or No Wheels, That Is The Question
Deciding to use a wheelchair on a Disney World vacation can be a very difficult, and often personal, decision to make. Join us as one of our Vacationeering authors confronts the realities of her medical condition and a history of painful visits to the parks. Disney travel with disabilities. Deciding to travel with a wheelchair.

10/29: The World Famous Jungle Cruise
The Weekend Update crew is taking a break today and "The 626" is filling in with a look at the classic Disneyland attraction, the Jungle Cruise. Its combination of exotic travel and zany humor makes it memorable for those who dare to embark. Join along, this is one story which really gets its point across . . . in the end.


10/28: Halloween and Christmas Collide, a Disneyland and DCA Update
It's the last weekend of Disneyland Resort's Halloween Time and Christmas decor is already spreading around the parks. Snow has fallen on Sleeping Beauty Castle, and New Orleans Square has decked its halls. DCA sees more construction progress on Buena Vista Street and Cars Land. Over at the Disneyland Hotel, construction of the E-Ticket Pool is coming along. We also give you a final roundup of the best Halloween attractions in Southern California.


10/28: Remembering Superstar Limo
Werner Weiss of Yesterland remembers one of the most unfortunate of Disney attractions, Superstar Limo at Disney's California Adventure. It was a ride with such little heart and soul that it had to be re-themed after a very short run. Let's tune our time machine to Yesterland and relive DCA's not so glorious opening days.


10/26: Explore MORE of Adventureland with SAMLAND!
Last week we took some time to explore the wilds of Disneyland's Adventureland. The tour continues today in our second part as we explore ancient temples with Indiana Jones, launch from exotic ports of call at the Jungle Cruise, and enjoy an authentic Polynesian dinner at the Tahitian Terrace! Join SAMLAND as he concludes his journey through the mysterious jungles and exotic locales of Adventureland!