The latest in Disney and theme park news and discussions is all highlighted for you here. Today's MiceChat Round-Up starts with pictures from Disneyland's taping of their Christmas parade. We then move on to Walt Disney World and check in on the talking Mickey tests. (And we ask if things are getting any better there.) Finally we stop by Tokyo DisneySea for a MiceChat meet up, and clue you in on the latest on the pumpkin launch at Cal State Fullerton. All this, along with new MiceTube videos from MiceChatter and cHATBOX plus an informative new Ask Al! ~ CakvalaSC
EDITOR'S PICK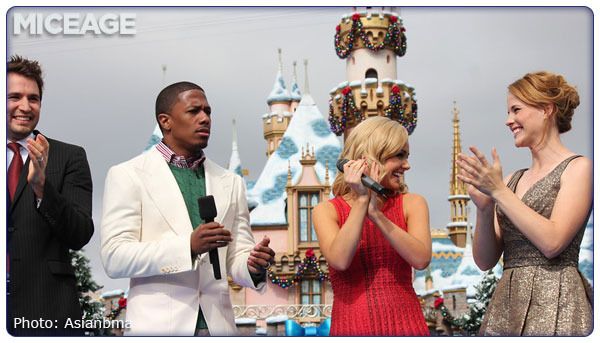 Pictures & Video from Nov 6th, 2011 - ABC Christmas Filming 2011
Asianbma was at the Disneyland Resort for the taping of some of the special entertainment that will be appearing on the Disney Christmas Day TV special! Take a look here for his photos and a couple videos
Sign up for the monthly

MICE

CHAT

newsletter:



MiceChat is NOT affiliated with the Walt Disney Company in ANY way.
The Disney web site is located at www.disney.com
Q: Al, longtime reader of your column here, and even longer-time Disneyland Cast Member. Wondering if you could publicly shed a little bit of light on an issue that we're having in the hopes that the finance guys in Team Disney Anaheim will stop giving us the shaft.
When I joined the company (a long time ago), there were two blockout days on our silver admission pass for Disneyland--July 4 and December 31. Both were days that you didn't really even want to be in the park because of crowds, let alone work those days, so it wasn't that big of a deal. Every January we used to get the pass in the mail with the blockout dates for DL and WDW printed on the back so we could plan trips to the park well in advance.
Well, things have really changed. Now, we have an online system that we have to check, where finance posts blockout dates a month or two in advance. And sometimes, for special events (like the pirates premiere), they throw in a few extra dates at the last minute. While they look at past attendance numbers for some of these dates, many others are blocked because of the AP program. SoCal resident pass been blocked for a week?--then block the CMs for two days when the SoCal passes can come back to the park just in case. Stuff like that.
In 2011, this has resulted in 77 cast member blockout dates. I'm a longtime salaried cast member and I was barred from enjoying my place of employment for over two months this year.
While I and other cast members realize that the AP program makes a lot of money for the resort, it's disappointing to realize that my service to the company is less important to them than a deluxe annual passholder. Every year the TDA bean counters add more blockout dates at Disneyland, although the dates seem to stay relatively the same, or even lessen, for WDW.
I know we have a smaller park and a growing AP program, but blocking DL cast members from the resort promotes negative feelings from the cast towards management and APs. In addition, there are cast members that receive guest questions like "is the mermaid ride good?" and they respond "we have a mermaid ride?" because they haven't been able to experience the park on their offtime. While I realize they need to be reading the line and have this information, many of them see coming to the parks on their free time as something that is now blocked more than its available, so they don't bother.
Although DCA was only blocked for 50 days this year, with the redo of the park, you can bet that they'll be adding a boatload of blockout dates to DCA in 2012 as well. Just sad that this really nice benefit, and something that really helped enrich the guest experience, is now getting cut just like all our other benefits.
Hope if you decide to talk about it, maybe the bean counters will wise up and lighten our dates for 2012. - CM

Can I have the A and the L?
A: I hear you. But - alas - the answer here is not as simple as some sharp pencil boys trying to give you working stiffs the shaft. And the numbers involved beyond the annual passholders may surprise you as they did me, as it turns out the growing list of blockout dates for Cast Member sign-in privileges is also a side effect of the swelling regular attendance and growing pool of eligible employees in Southern California over the last decade.
One look at those attendance demographics we discussed in the last update tells much of the story here; even with a long list of blockout dates the Disneyland Resort had over 2,140,000 complimentary tickets come through the gates during fiscal year 2011, almost all of them from Cast Member benefits packages (comp tickets and sign-in passes). That's roughly 10% of the annual attendance of both parks coming in on those free tickets, with comp parking and stroller rentals thrown in for good measure.
Free admission to Disneyland is a unique employee perk that is often obsessed over more than company medical plans or hourly pensions. From the 1950's until just after DCA opened, the park had a rather quaint system of cardstock sign-in passes that were mailed out to eligible Cast Members once per year in December. Full time hourly Cast Members had 12 sections on the back of their blue pass, and with each use the ticket taker at the turnstile would stamp one of the sections with the date. Once the 12 sections were full, the pass was no longer valid for the year. Salaried managers or full time CM's who had worked there at least 15 years were issued a "Silver Pass", which wasn't subject to the 12 stamp limit. Technically the Silver Pass allowed unlimited use, but there was a tracking system in place and if the bearer used the pass more than a few dozen times in a year they got a very stern letter from Burbank reminding them that their pass may not be taken advantage of and their use of it appeared excessive.
The whole system that worked so well before began to fall apart shortly after DCA opened in February, 2001. When Cast Members received their 2001 pass in December of 2000, they noticed that DCA was going to be blocked out from February 8th (opening day) until Tuesday, September 4th, which was the day after Labor Day. As you may all remember, Team Disney Anaheim was confident that DCA would be such a huge hit that the park would be packed to the gills every day through at least that first summer. Well that didn't happen, and as winter turned into spring back in 2001 DCA attendance was beyond disastrous. TDA immediately lifted DCA's blockout restriction for Cast Members by early May, and in June they were actually giving away free DCA tickets at the backstage TEAM Centers to any Cast Member who bought a 8 dollar movie ticket to the AMC Theaters at Downtown Disney. This was called the "Dinner, Theme Park, and a Movie" promotion, and it was just one of many free or heavily discounted ticket gimmicks TDA rolled out to try and get bodies, any bodies, into DCA that first summer.
As TDA and Burbank both grappled with the DCA problem in 2002 and '03, one of the first things they did was to increase the number of sign-ins hourly Cast Members received each year from the traditional 12 to 16 for hourly blue passes. The sign-in passes mailed out for calendar year 2002 also had no blockout dates for DCA except for New Years Eve, while Disneyland had a growing list of blockout dates. It was during this same time that Disneyland was rapidly expanding their holiday offerings in December with the new Believe fireworks and snow machines and Haunted Mansion Holiday. It was for this reason that weekends in December joined the list of blockout dates for Disneyland only; the weekend attendance in early December, a traditionally slow time, was suddenly rivaling the busy days of late December and free admission for employees was off limits for those hectic weekends.
Then came the wildly popular 50th Anniversary and a gradual increase in DCA's annual attendance, plus the explosive growth of the Annual Passholder program to nearly a Million by 2009. All of those factors combined created new attendance patterns that saw Anaheim's "off-season" dwindle from six or seven months of the year to just a handful of weeks spread across September, January or May. At the same time, the number of Cast Members eligible to receive the passes was increasing. In the old days new-hires always began as a Casual Temporary (CT) hired on for the summer, and a few other weeks of the year around Christmas and Easter. Those CT's made up a huge chunk of the park staffing, but were not allowed to receive sign-in passes, thus creating a class of thousands of Anaheim Cast Members who weren't eligible for the sign-in pass.
Even when a Cast Member was upgraded to a "Casual Regular" part-time status after a few years, they were put on a union probation for 90 days and only given their pass at the end. While the CT status still officially exists, very few Cast Members are hired in at that level now. The attendance demographics are such that Disneyland now needs their peak summer staffing nearly year round, at least for weekends, and almost all of Anaheim's 22,000 employees are "regular status" hourly or salaried, and new-hires receive their sign-in pass within a couple weeks of hiring in regardless of their union probation period. The changes to increase the number of sign-in dates and scrap the probation period were all cemented into policy around 2006 by the HR department, back when the unemployment was very low and TDA was scraping the bottom of the barrel trying to find and keep decent Cast Members.
In addition to the Anaheim crew, there are also tens of thousands of additional Disney employees now working in SoCal, with the explosive growth of big divisions like the Disney Channel, Disney Consumer Products and the acquisition of ABC Television and various other ventures adding to the roster of employees who also receive sign-in privileges in Anaheim. The other change in the last decade was the final move away from the paper card passes in the middle of the decade and to a plastic card. Once the plastic passes had been in use for a few years, as part of a company wide push to phase out paper use and lower mailing costs, Burbank decreed that new passes would no longer be mailed each year. The sign-in passes no longer have the year printed on them, and are simply reused year after year like a grocery store club card.
The complimentary passes used to be mailed to everyone's home in December with a Christmas card and a calendar for the new year from Michael Eisner, an old-fashioned idea that has been phased out as a victim of the sharp pencil boys. Without that paper trail and the annual calendars, Cast Members are now expected to log on to Disney's intranet site and scout out upcoming blockout dates online. TDA doesn't like to put the entire year of blockout dates up any longer because they have been burned in the past when big things like Pirates movie premeires come up, and they know that last-minute changes to blockout dates listed a year in advance can earn them the wrath of upset employees.
Heck, they still don't know when Buena Vista Street construction will be completed in 2012 and whether or not DCA's huge relaunch party will be in June, July, or August, let alone the actual dates that DCA would need to be blocked out for that. It's safer and wiser for them to only list the blockoutdates two or three months out at a time. The good news is that TDA is planning to hold multiple Cast Member Preview dates, where Cast Members and their families will be amongst the first to ride Radiator Springs Racers and experience Cars Land exclusively over several weekends in May, while that new land remains closed to regular park guests on the other side of the construction walls. Those official Cast Member Previews, in addition to just throwing open the doors to a ride randomly for CM's only, like they did on many days with Mermaid this past May, are up to the CM's to take advantage of.
While all this hopefully explains why the system has changed as it has over the last decade, sometimes on purpose due to swelling Disneyland attendance and sometimes as a panicky response to a major crisis like DCA, the future doesn't appear to offer any change in these policies. If anything, you'll be seeing a dramatic increase in DCA block outdates from June, 2012 onward. They likely won't take back the extra sign-ins for the hourly CM's and revert back to the 12 sign-ins each year, but the concept of blockout dates will continue and expand. Hopefully, once TDA gets through fiscal year 2013 and wraps up the massive DCA relaunch campaign they are planning, attendance will stabilize to the point where TDA feels more comfortable in at least publishing the blockout dates at least six months in advance, instead of three months. But when over 2 Million people are coming through your turnstiles each year using complimentary passes, it's a system that they would be wise to continue keeping a tight lid on I would think.
I guess Disneyland Cast Members can be thankful that Anaheim isn't as successful as Tokyo Disneyland. The Tokyo parks have been so busy year-round that they don't offer any type of sign-in passes or complimentary admission whatsoever, to either hourly or salaried employees. The only ticketing benefit that tenured Tokyo Cast Members receive are a few select dates per year when they are allowed to purchase park admission at a slight discount for themselves and their immediate family. (This has apparently remained post-quake too.)
It's understandable that long-time Anaheim Cast Members may be frustrated with the changes, but it could be much worse. And at least most of these moves are due to a resort property that is growing in popularity and attendance by leaps and bounds. We won't include WDW in that catagory. ;)
Got a question for Al or any of the MiceAge columnists?
Email them to

[email protected]


Your question may be featured in a future MiceChat Round-Up,
but keep in mind due to the volume of mail received he may not be
able to personally respond.
---
We recently had the opportunity to visit Disney's new Aulani resort and Spa on Oahu and found it to be amazing. What's more, we were able to work a special deal and are offering a trip to this new resort at up to 40% off the regular rate. This is going to be an affordable chance to enjoy this resort along with all of the other things Oahu has to offer. This trip will take place June 23-30, 2012, and we have locked in PHENOMENAL deals on rooms of all sizes (even ocean view!). Come feel the ocean breeze with your MiceChat friends. Take tours, luau, snorkel and experience Hawaii as you never have before.
Visit the MiceChat Aulani discussion via this link for more information.
---

ln the past week, the last Halloween Party for the year was held, the Christmas Day Parade was filmed on Main Street USA, and taping of celebrity performances took place in front of the castle, and in the Grand California for Christmas and New Year's Eve specials! Talk about holidays colliding! This section is your place for photos and videos of these events. ~ Aladdin
Mac Daddy's 2011 Autumn In The Parks Photo Thread
Mac Daddy never fails to amaze us with his photography whenever he posts! Here's his latest and greatest!

Behind the scenes of Disneyland's ABC Christmas Day Special
g3311r returns with a video of some of the taping from the Parade for the Christmas Day TV Special! Yes, there are a few things in this version of the parade that are only done for TV!

Generic Park Merchandise
Nathan Detroit hates the penny-pinching Disneyland is doing all over the resort in resorting to printing 'Disney Parks' on everything from merchandise to hotel soap and combining both Disneyland and WDW icons on many things, rather than keeping Disneyland and WDW merchandise branding separate on both coasts. Why would guests want WDW merchandise at DL and DL merchandise at WDW? Let us know what you think of this One Disney initiative being forced through again, after it was soundly rejected before by Disneyland guests.

Wizard of Oz at Mickey's Halloween Party
ForTheKids and family Ease on Down the Road, the Yellow Brick Road, for one of the last HalloweenTime parties of the season!

It's HalloweenTime Silly Pumpkin Head!
bubblesung also returns, this time in her Halloween finest, with this short colorful trip report!

Oct 21-23 Trip
chris001 and his son celebrate HalloweenTime at Disneyland and even take in the Halloween Party!

The Day After Halloween - 11.1.2011
Rocker has a few photos for us, from the day after Halloween! The transition from Halloweentime to Christmnas has to occur real quick, especially considering that they have already completed the filming of the Christmas Day TV Special this past weekend!
---
The A/V Room
Sarah now has her newest MiceChatter video posted...
...and our newest MiceTube videoblog contributor, Matt,
a.k.a. infaMOUSEproject has his latest cHATBOX up...
---
MAGIC 24.7
LISTENERS, CALL US!
MAGIC 24.7 has unveiled a phone number where listeners can call 24 hours a day, 7 days a week and request a song, send out a dedication, or leave a station comment. The MAGICLINE is equipped with voicemail, so feel free to leave a message for us, and you may hear it on the air! Call (424) 270-1955. Long distance charges may apply!

NEW MUSIC MONDAY
We add a couple of new tracks every week!

APP UPDATE
We're working on finishing up our iPhone/iPad/iTouch App for MAGIC 24.7! Soon you'll be able to interact with our station on your favorite devices from Apple. We're hoping to launch it very soon - so stay tuned!

PODCAST UPDATE
Every Monday to Friday between 6-9 am Pacific, we give you your MiceChat.com Newscast. Coming soon, you'll be able to get a full recap of news from your favorite site.
---
Have you signed up for MiceDeals?
Don't miss out on 50% to 80% off Southern California and
Orlando area theme park, restaurant, hotel and attractions!
Visit MiceDeals.com today and sign up at the top of the page for your daily
deal reminder. Hurry, because they sell out quick and don't last long.
---
DisneyWorld 40th Anniversary
Walt Disney World is celebrating its 40th Anniversary this year and DLPfan1992 has noted that there is only a little ceremony for the event. Doesn't the 40th deserve a bigger party? Share your thoughts and ideas.

Western River Expedition Animations
The Magic Kindom had originally planned for a lavish tour of the old west. However, due to popular demand, Pirates of the Caribbean won out over the Western River Expedition. ttinagel shares with us an animation based on the original Marc Davis concept art. So, did we miss out on a great idea?

More Talking Mickey Tests - getting better!
Disney has released some new tests with talking Mickey at Walt Disney World. This new technology is looking better and better, but is it ready for prime time or simply a little creepy?

Hollywood Studios and Animal Kingdom = 'junior' parks?
Disneylandfan85 brings up an interesting question. Disney's Hollywood Studios and Animal Kingdom have fewer attractions than their big brothers, The Magic Kingdom and Epcot. Does this regulate them to 'Junior' theme park status or are they fine on their own?
---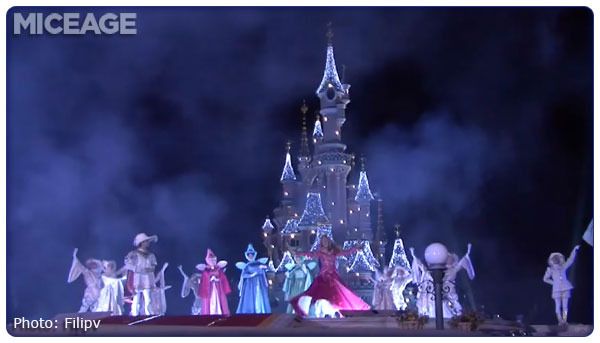 Christmas 2011 Video's
Want to know what is going on in Disneyland Paris? Filipv has posted some great 2011 videos of the holiday events!

MiceChat TDS Meetup November 10th 2011
Are you looking to meet up with the rest of MiceChat at Tokyo DisneySea resort? Here's the thread to find out more!

Joe's Tokyo Disney trip report - October 1st to 16th, 2011 - Lots of pictures
Mre200200 has posted a long awaited trip report on the Tokyo Disney Parks, with a lot of wonderful pictures!
---

Mirror Mirror on the wall - Where's the greatest cruise of them all?
Join flynnibus as they describe our journey on the Disney Cruise Line from the MiceChat Disney Dream Cruise of 2011.
---
The Pumpkin Launch of 2011 at Cal State Fullerton
techskip attended last Saturday's pumpkin launch and said it was an absolute blast. Check out the pictures.

First Time Visit to Knott's Berry Farm
Disneylandfan67 is planning a first time visit to Knott's. What advice do you have for someone who is afraid of heights?

Shrek 4D Available on Netflix
According to Bill, this Universal Studios' ride is part of a streaming video available from Netflix.
---

Andy Rooney, wry '60 Minutes' commentator, dies

Porcupine Gulch Ghost Town/Halloween yard haunt 2011
RegionsBeyond put on a good Halloween display in his parents backyard! Check out these awesome pics of the spooktastic fun!
---


11/8: Castle Lights, Sea Sick, Oh Pooh, Huge Update
Orlando Parkhopper brings you the week in news from Disney World and the Central Florida parks. Christmas hits the Magic Kingdom with a flurry of decorations, holiday fireworks and parades. We next jump over to Disney Hollywood Studios for the amazing Osbourne Lights Spectacular complete with video! But that's not all, we also travel over to Universal to check up on the preparations for the Harry Potter event coming up at Islands of Adventure and we then stroll through SeaWorld Orlando for some seaside Christmas preparations and construction. Plus, we have all sorts of juicy news and rumors for you today including Pooh queue, sea sick seas, entertainment cuts and much more. . . Let's hop to it . . .


11/7: Christmas parades and Buena Vista sneak peeks
It was another busy weekend at the Disneyland Resort as a little bit of Hollywood invaded Main Street for the taping of the annual Disney Parks Christmas Day Parade. While the parade recording brought comedian Nick Cannon and TV cameras to Disneyland, work continued over the weekend on installing holiday decorations throughout both parks. The holidays are almost here and now is the perfect time to check out our friends at TouringPlans.com, who can help you make the most of your holiday visit. So don't miss TouringPlans' special offer only for Dateline Disneyland readers featured in today's column!


11/6: Making Disney's Aulani Hotel Affordable-ish
For the last month or so, we've been featuring articles about Disney's spectacular new Hawaiian hotel, Aulani. The big fancy new hotels are often expensive and Aulani is no exception to that rule, perhaps even more so than you might expect. Never fear, Vacationeering is here with tips and tricks that might just make Aulani an affordable option for your family. Let's do a little creative budgeting and see what we come up with.


11/5: Fort Wilderness Golf Cart Parade, Hollywood Studios Christmas, Tokyo Disneyland Magic
Weekend Update is back with a fabulous report from Walt Disney World where the Fort Wilderness campgrounds held their annual Halloween Golf Cart Parade. You'll be surprised just how elaborate and creative the carts were. Then we show you the first of Disney World's large Christmas trees already up and on display at Disney Hollywood Studios. From there we head to Tokyo Disneyland which puts on one heck of a great Halloween.


11/4: Disneyland Holiday Prep, A Very Duffy Christmas, Farewell Log Jammer
It's Friday, come take a walk with us In The Parks, your weekly dose of news and information about the southern California theme parks including Disneyland, Disney California Adventure, Knott's, Magic Mountain and more. Christmas is slowly drifting into Disneyland and Duffy is ready for the holidays at DCA. We'll take you to Knott's to gander at a park recovering from its post Haunt hangover. And we mourn the loss of some classic attractions at Six Flags [1] Magic Mountain. Alrighty then, let's get to the fun stuff.


11/3: Was Sid Cahuenga a Real Person? Yesterland Finds Out!
If you've visited Disney's Hollywood Studios in Orlando, you can't help but notice the Craftsman style house on the right hand side of the street which offers one-of-a-kind antiques and curiosities called Sid Cahuenga's. Many folks and blogs have claimed that Sid was a real guy, but Yesterland's not so sure. Join Werner Weiss as he deconstructs the myth to get at the true story.


11/3: The SAMLAND Guide to Universal Studios Hollywood: Part One
Everyone knows that Sam is a fantastic writer and historian about the Disney parks and resorts, but it turns out that he's a Universal Studios fan as well. Sam shares some lessons from his days working at Universal Studios Hollywood and creates a three part series devoted to helping you better enjoy this unique hybrid movie studio and theme park. Enjoy part one of the SAMLAND Guide to Universal Studios Hollywood.