Merry Christmas and Happy Holidays to one and all! Disneyland is photographed in all of its holiday glory by pro and amateur alike this week, One Republic shoots a video at Walt Disney World, and we discuss the refurbishment of Journey into Imagination, again. What happens in Disneyland Paris when the parade has started and a huge storm hits? All of this plus a new video from D23's Disney Geek. Enjoy! ~ CakvalaSC
EDITOR'S PICK'S
Mac Daddy's 2011 Winter/Holiday Photo Thread
MacDaddy brings us some spectacular photos of Disneyland during Christmas, and includes photos from the Candlelight Processional!
Sign up for the monthly

MICE

CHAT

newsletter:



MiceChat is NOT affiliated with the Walt Disney Company in ANY way.
The Disney web site is located at www.disney.com
---
Al returns next week as he just posted his latest column.
Got a question for Al or any of the MiceAge columnists?
Email them to Al@MiceAge.com
Your question may be featured in a future MiceChat Round-Up,
but keep in mind due to the volume of mail received he may not be able to personally respond.
---
Save The Dates of January 27th through 29th
for a magical MiceChat 7 Year Anniversary celebration

It all begins on Friday January 27, 2012. Join us on a very special one day Adventures By Disney "Hollywood Magic" trip that starts at the Walt Disney Studios and then takes you to other famous Hollywood locations with your MiceChat pals. We'll tour the Walt Disney Studios, see the famous Disney Archives, dine in the commissary and shop in the studio store. Then it's off to Hollywood where you'll tour the El Capitan and the Kodak Theaters (the latter the home of the Academy Awards) as well as other famous tinseltown and Sunset Strip sights and landmarks. The day wraps up with a cocktail reception on Malibu Beach at sunset. What better way to kick off the MiceChat anniversary weekend! Less than 10 spots remain ($179 per person) - e-mail Teresa Cory of Fairy Godmother Travel today for details/bookings: teresa@fairygodmothertravel.com

Then it continues on Saturday January 28th, our DCA day, filled with fun and games. The grand finale is on Sunday January 29th which is our traditional Disneyland day with breakfast along the Rivers of America, a grand circle tour of the happiest place on earth and the classic noon meet at the right hand of Walt Disney himself. We hope you'll be able to join us. Details about the meets, events and special opportunities will be posted soon.
---

Merry Christmas to all! We have wonderful wintertime photos from Disneyland, a preview of what the Disney Christmas Day special will look like. Then we want to know which you would prefer to visit, the World of Harry Potter in Florida or Radiator Springs in California. ~ Aladdin
My first attempt at photography
Mutiny has some wonderful photos from Disneyland and DCA!

If you could only visit the Wizarding World of Harry Potter or Carsland?
King Eric asks an interesting question, if you could only visit one, which would you choose, Harry Potter's area at Universal in Florida or Radiator Springs in California? Be sure to vote in this poll!

A Soundsational Christmas
imagineerthat has video of the Soundsational floats as they appeared for the taping of the Disney Christmas Day Special!

Disneyland Hotel Mid 1980's
Here are some photos of the wonderfully themed Disneyland Hotel of the 1980's, courtesy of oldhotelguy.
---
The A/V Room
D23's Disney Geek has a new video up...
MAGIC 24.7
LISTENERS, CALL US!
MAGIC 24.7 has unveiled a phone number where listeners can call 24 hours a day, 7 days a week and request a song, send out a dedication, or leave a station comment. The MAGICLINE is equipped with voicemail, so feel free to leave a message for us, and you may hear it on the air! Call (424) 270-1955. Long distance charges may apply!

NEW MUSIC MONDAY
We add a couple of new tracks every week!

APP UPDATE
We're working on finishing up our iPhone/iPad/iTouch App for MAGIC 24.7! Soon you'll be able to interact with our station on your favorite devices from Apple. We're hoping to launch it very soon - so stay tuned!

PODCAST UPDATE
Every Monday to Friday between 6-9 am Pacific, we give you your MiceChat.com Newscast. Coming soon, you'll be able to get a full recap of news from your favorite site.
---
Have you signed up for MiceDeals?
Don't miss out on 50% to 80% off Southern California and
Orlando area theme park, restaurant, hotel and attractions!
Visit MiceDeals.com today and sign up at the top of the page for your daily
deal reminder. Hurry, because they sell out quick and don't last long.
---

Well, let's see what we have in our stockings from Walt Disney World this week. We have a music video filmed in Walt Disney World (or is it Disneyland?), a look at Journey Into Imagination, some touring questions, and a whole lot more! No matter what holiday you're celebrating, we wish you a happy one! ~yoyoflamingo
One Republic's MK music video
See a video from the band celebrating traveling to Walt Disney World...just because. It's a reason we haven't seen in a while and is quite refreshing!

Journey Into Imagination Refurb
edward1978 brings up a question that has been on everyone's mind since the original Journey Into Imagination closed and was replaced by the vastly inferior version before the slightly better inferior version...when are we getting a good version back? Share your thoughts and reminisce here!

Best days of the week to visit Disney World parks?
The title says it all: Which days are better during the week to visit the parks. Any ideas?

The future of the River Country property
Sure we've all seen the poor remnants of the first water park wasting away, but what's to become of it. See some of the rumors, and voice your opinion on them here.

WDW trip do overs
An interesting premise for a thread: If there is anything you could do from a Walt Disney World trip over again, what would you do?
---


This week we have crazy weather in Paris, a couple questions about Tokyo, and life as a performer in Hong Kong. ~ Trekkie Dad
A very cold and stormy weekend (photo heavy)
Rain, hail, snow--according to coruscant, nothing stops a parade once it's started at Disneyland Paris.

Possible Kim Jong-Il Successor Disregarded After Attempting to Visit Tokyo Disneyland
This may only be a footnote to the passing of North Korea's dictator, but WDWizard wonders if this is the reason he favored the younger son as successor.

How early to get to the parks?
rockysam382 wants to know when is a good time to arrive at the gates of the Tokyo parks.

Jubliation parade closed during the month of April
TDRFAN25 wonders what may replace this parade in the Tokyo resort.

Ornaments & Pins!
russellandkristi are interested in Christmas ornaments and pins found at the Tokyo parks.

Life as a Disneyland performer
Daboltz found this short video clip featuring a parade performer at Hong Kong Disneyland.
---

Disney Cruise Line cancels select December 2012 Mexican Riviera cruises
Fairy Godmother Travel gives us the scoop on the latest Disney Wonder cancellations.

Character Performers on the Disney Cruise Line
Our fellow MiceChatter, harpist1991, ponders how they can get a possible job on a Disney cruise line. Sounds like it would be fun. Any one able to offer some advice and help our friend out?
---

Hope all of you have a wonderful holiday and enjoy the report from Knott's Holiday fun!

Trip Report! December 16th at Knott's Merry Farm!
Lynxwiler took a visit to the now decked out for Christmas Knott's Berry Farm.
---

The Jack Tree
Check out this incredible Jack Skellington tree that was designed for a charitable event by our own MiceChatter, GARSINMH

Are you a nice MiceChatter?
This is great way to find out if you made Santa's naughty or nice list! I hope I made the nice list!
---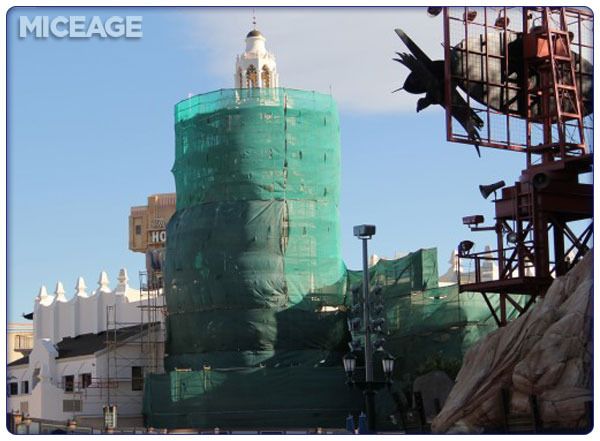 12/20: Al Lutz – Clubbed
Al comes with news for changes to Club 33, updates to Cars Land and up and coming annual passholder parties!


12/20: Magic Kingdom Waffle, Test Track Reboot, Christmas in Space, Jaws, Potter Expansion
Christmas is less than a week away and we've got a goodie bag filled with Orlando theme park news and photos for you today. Waffle Sandwiches in the Magic Kingdom, Fantasyland construction updates, new cars spotted on Test Track and more at Disney World. Plus two videos from Kevin Yee, one to tour the Monorail hotels at Christmas and the other to pay homage to the soon to close JAWS attraction at Universal Studios. Now then, let's park hop!


12/19: Jolly Holidays and paving the road to Radiator Springs
Happy Holidays, Dateline Disneylanders! The Disneyland Resort enters its busiest block of the year later this week as post-Christmas crowds hit the parks, likely bringing Disneyland to capacity several times between the Christmasand New Year's Eve holidays. There's plenty to see in this week's Dateline Disneyland, so join us for our weekly tour of the parks!


12/18: Birds of a Feather – Disney's Jose Carioca
Today's 626 takes a look at The Three Caballeros, a film inspired by Walt Disney's trip to South America. One character in particular gets little love from the Disney Company - that dapper Brazilian parrot, Jose Carioca.


12/17: Walt Disney World's Magic and Merriment
This week we have a massive report from "Magic and Merriment," a special holiday event at Walt Disney World. This two day holiday extravaganza has become so popular, it was offered two times this year. The $235.00 ticket entitled guests to two days of activities in the parks. Take a look and see the holiday magic for yourself.


12/16: Mary Blowing In, Club 33 Blues, Transformers
Santa is getting ready to visit, and the Southern California theme parks are gearing up for some of the busiest days of the year. We have some good and bad news from Disneyland about upkeep, the weekly look at Cars Land and Buena Vista Street, and news that yet another store is leaving Downtown Disney. Plus, an uproar is brewing for members of Club 33. If that isn't enough for you, we also stroll through Universal Studios Hollywood for a check-up on Transformers.


12/16: Walt Disney's Mineral King
If all had gone as planned, by 1976, Walt Disney's Mineral King ski resort would have been in full operation in the Sierra Nevada mountains of California. Just 227 miles northeast of Los Angeles, Mineral King was estimated to draw 2.5 million visitors annually. Alas, the project was not to be. Join Werner Weiss of Yesterland has he details Walt's great vision for a year round ski resort.


12/15: Big Thunder Rocks, Disneyland Pow Wow, Favorite Bathrooms
SAMLAND is always an interesting column to read, this week, Sam brings us another of his popular trivia collections we like to call the Encyclopedia Samlandica. Find out a bit more about some famous Disneyland rocks, a private party to die for, a restaurant inside a hat, a special tribute and even a favorite theme park bathroom.


12/15: Pressing Matters
Sue Kruse has a list of cool things and fun events for you, including: MiceChat Celebrates • Princesses, Why Does It Always Have To Be Princesses? • Ice Skating OC-Style • Holiday With Critters • It's A Wonderful … Christmas Carol? • The Lovers, The Dreamers, And Me • Walt's Barn • Planning Ahead